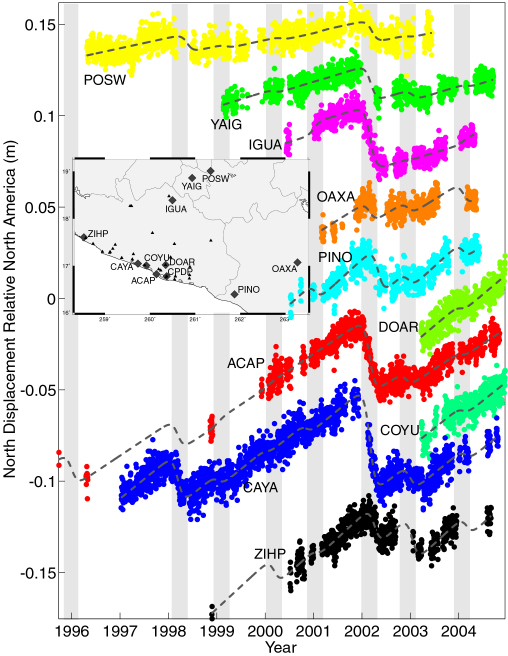 Time series of GPS data from Guerrero, southern Mexico, show brief (3–4 month) reversals of motion totalling anywhere from 1 to 10 cm. These events occur about once per year and indicate slow aseismic thrust slip occurring on the plate boundary. Three large-displacement events have been observed in campaign data around 1996 [ Larson et al., 2004], at campaign sites and three permanent GPS sites in 1998 [Lowry et al., 2001; Larson et al., 2004] and at eight permanent sites in 2002 [ Kostoglodov et al., 2003; Iglesias et al., 2004; Yoshioka et al., 2004]. Smaller but nevertheless significant displacements also occurred in 1999, 2000, 2001, 2003 and 2004 [Lowry et al., 2006]. Taken together, these eight events suggest that slow thrust slip recurs on the Guerrero subduction plate boundary at intervals of about one year.
Modeling of the Guerrero slow slip events (also referred to as "silent earthquakes") indicates that they occur in the transition from velocity weakening friction (i.e., the seismogenic zone) to velocity strengthening friction at greater depths [Lowry et al., 2006]. Interestingly, these events are made possible by unexpectedly strong frictional coupling of the plate boundary within the transition zone during inter-event periods. The minimum magnitude equivalents of moment release range from Mw=6.1 for the smallest events to 6.8 for the largest, and actual moment release is probably larger because this does not include deformation from slip outside the region of GPS measurements [Lowry et al., 2006].
Similar (albeit generally smaller) aseismic fault slip events have been observed in continuous GPS data from Cascadia, Alaska, Japan and New Zealand. All of these events appear to have activated areas of the subduction megathrust immediately down-dip of the seismogenic portion of the fault, and events in Cascadia and Japan also have a similar (approximately annual) periodicity.