Imagine that you are inside a huge balloon, and you press your hands outward against the membrane. From the outside, it would appear that the membrane bulges up and stretches where you are pushing it. Rifting is similar, except that the "balloon" is the Earth, the "membrane" is the lithosphere (the cold, strong outer layer of the Earth), and the "pushing" is done by hot, buoyant rock underneath instead of invisible hands.

However, there is much we still don't understand about how and why the buoyant rock got there in the first place, or the details of why volcanism and faults are where they are or what that may mean for future earthquakes and eruptions. That is why scientists are studying the rift further!

Movements across the rift are small and slow (about 2 millimeters per year), so scientists are using a new technology to find out more about the rift.

A team of scientists from the University of Colorado, University of New Mexico and Utah State University, with funding from the National Science Foundation's EarthScope Program, measure movement in the Rio Grande Rift by observing global positioning system (GPS) instruments in a network that runs from the central Colorado Rockies into southern New Mexico. The team is seeking to determine whether GPS instruments, which rely on satellites for their measurements, can accurately measure the miniscule movements of the Rio Grande Rift.

Questions addressed by this research include:
How wide is the rift, and how does the amount and rate of deformation vary along the rift from north to south?
How far north has the Rio Grande Rift propagated? (Does crustal extension occur in northern Colorado, or into Wyoming?)
Is there evidence of ongoing magma transport in the crust beneath older volcanoes in the region?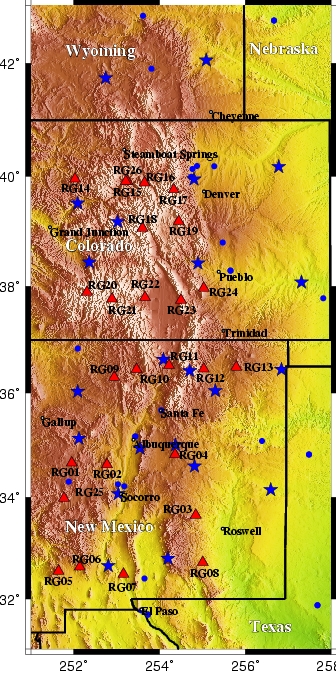 Site locations in the Rio Grande Rift GPS network are shown as triangles; the red triangles installed for this study have been collecting data since 2006. Plate Boundary Observatory stations are shown as blue stars. Locations of other GPS network sites are shown as blue circles.